Tapering Benzodiazepines
1. Convert to longer-acting agent (see benzodiazepine conversion table below), or taper with the agent that the patient is taking.
• Recommend longer-acting agents including clonazepam, diazepam, chlordiazepoxide.
• For elderly patients, avoid or be cautious with diazepam and chlordiazepoxide; both produce the active metabolite, desmethyldiazepam, which has a half-life of 50 to 100 hours, and can accumulate to cause prolonged sedation. Remember also that the hepatic isoenzyme 3A4, which metabolizes diazepam, often becomes sluggish/hypo-functional in the elderly (APA Textbook of Psychopharmacology, 4th Edition, Chapter 12 written by Craig Nelson).
• For patients with impaired hepatic metabolism, only use lorazepam, oxazepam, or temazepam.
• Remember that equivalences are approximate; if converting, adjust the initial dose according to symptoms.
2. Taper by no more than 5 mg diazepam equivalent per week.
• Halt or reverse taper if severe anxiety or depression occurs.
• Dispense daily, 2x weekly, or weekly depending on dose and patient reliability.
3. When the taper dose is below 20 mg of diazepam equivalent, slow the rate of taper to 1 to 3 mg diazepam equivalent per week.
4. *Do not apply this protocol to patients with active polysubstance abuse superimposed on concomitant use of benzodiazepines and opioids, as these patients may require an inpatient detox.
Adapted from Canadian Guidelines, 2016.
Also see
Ashton Protocol
for an excellent, alternative tapering methodology.
Benzodiazepine Conversion Table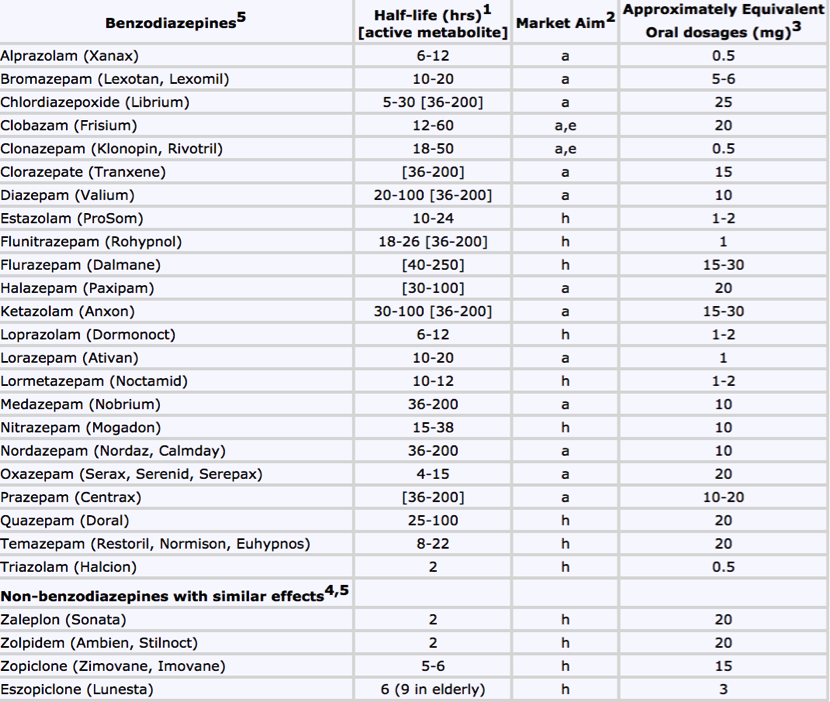 Source: Ashton Protocol, 2007.